Contacts
Manage the people who see your deal info …
Your CMBS.com account gives you simple, powerful ability to manage the parties that contact you
Easily add, save and share your deal in a secure environment.
Share with our marketplace and lenders, and with your contacts.
Model the asset, debt and equity of your deals using both direct cap and DCF valuation models.
Publish deal books that look great, are data rich, and are in a standard electronic format.
Manage your deal pipeline, documents, contacts, and users with your online account.
Search our free CMBS library to research the market and benchmark deals. Find and track leads and comps.
Save money on licensing fees. Upgrade your software to the same tools the big boys use.
Get all these tools and more with your CMBS.com account. 
Just $20/month or $199/year.
Manage your deals with our Deal Locator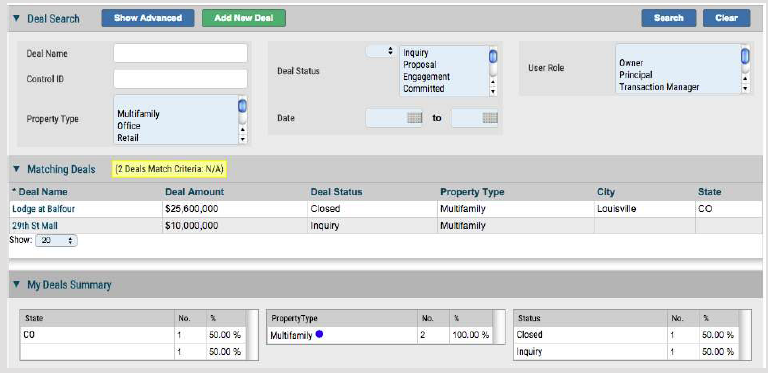 1
Filter your deals based on name, control ID, property type, status, date and user role.
2
Easily scan matching deals based on deal name, deal amount, deal status, property type, city and state.
Access deal details by simply clicking the deal name.
3
Your deal summary shows state, property type and status for all matching deals.