The Exposure Draft of IRP 6 (called "IRP X") has been released.
It contains essentially the same content as IRP 5, but in XML. I applaud both the CMSA and the MBA for getting that done. It is a critical step not only in organizing the basic data, but also in starting the comment period that leads to getting the standard approved.
We will now turn to the battle of getting the rent rolls added to IRP X, but at least the clock is ticking, and it will be in XML.
Master Servicer Issue
The master servicers are most affected by IRP X. To comply with XML should be only marginally painful because the servicing systems used (Strategy and Enterprise) are more than capable of producing XML. The bigger issue will be the rent rolls, because not all master servicers have the data readily available.
Some master servicers, typically banks, already enter rent rolls into their systems. Therefore, they can deliver the XML with rent rolls for about the same cost as just the XML (and at least one stated they would support the standard). Other master servicers enter only the top three tenants and the totals (the current standard) then simply log the document in the file cabinet. Finally, there are servicers who are reluctant to release any data without being paid.
To be fair, these companies bid their servicing contracts based on top three tenants. There is an argument to be made that, if we change the standard, master servicers should be compensated for the additional disclosure. I say fine, let's find a way to get these companies compensated — it will not cost very much — and get on with it.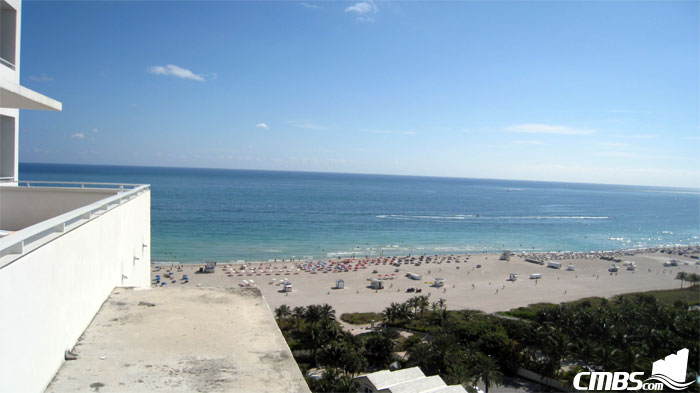 The view from the 17th floor of the Shore Club in Miami. Attending these conferences is a tough job, but somebody has to do it.
— — —
Jim Flaherty is CEO of CMBS.com and the creator of the Backshop loan origination system. He is a trained credit professional with experience installing enterprise underwriting systems for commercial real estate lenders, rating agencies and investors.
https://www.cmbs.com/wp-content/uploads/2019/03/cmbslogo030619.png
0
0
jimflaherty
https://www.cmbs.com/wp-content/uploads/2019/03/cmbslogo030619.png
jimflaherty
2009-01-13 00:11:57
2020-09-17 00:13:05
Notes from the CMSA Investor Conference: IRP X