I became such a Metallica groupie last week that my friends are calling me Penny Lane, the "Band Aid" groupie character played by Kate Hudson in the movie Almost Famous. They accuse me of having a "man" crush on Lars — Ahh, jealousy does not wear well on them.
Where to find the best shows
After seeing several shows in all sorts of venues, I can say Metallica is consistent — they alway deliver a rockin' set. It's the crowd and the venues that really set the energy level.
The Oakland show was the most intense I saw, followed closely by the Nassau Coliseum show in Long Island. What makes one Metallica show more intense than the other? The size of the mosh pits and slam dancing groups. Try to see a show where there will be an aggressive, active crowd. The great shows with super high energy can happen anywhere (and always in Europe), but I found the older venues in the U.S. tend to promote more energy than the newer venues. But, all that is just on the margins — all the shows had tons of energy.
Check out the Nassau mosh pit love these two shirtless skinheads are showing — they are about to hug it out after slamming the crap out of each other.
Check out the New York Times Review of the Naussau show.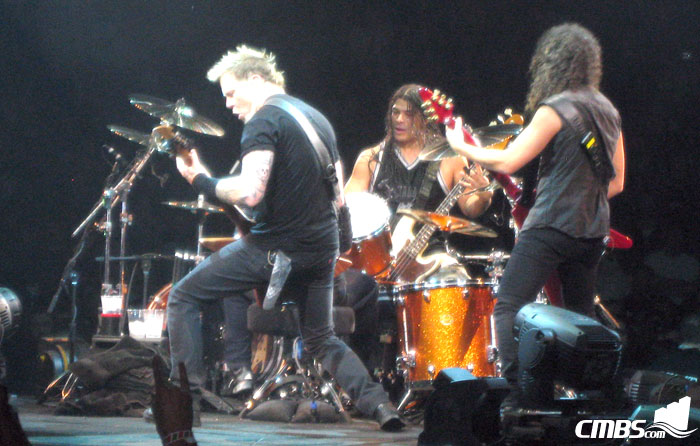 A tight band rockin' in New Jersey.
After party
After the Saturday night Newark show, the band hosted an after party at Craftsteak at 10th Ave. and West 15th St. The band was all there: Lars, Kirk, Robert and even James who usually passes on the late night scene.
Spoke with Kirk Hammett's security guard/assistant. We were reliving a story about a plane trip from Belgium to London last summer. The band was playing at a music festival in Belgium, and Lars let me tag along with him.
Metallica had two planes working that trip because James and Lars were in London and Kirk and Robert were in Paris. They all met in Belgium and, after the show, one plane took James and Robert to Greece (for their next gig three days later) and one plane went back to London and Paris because Lars and Kirk were going to go down to Greece the day of the show.
Kirk got on our plane, and when we landed in London, Kirk realized he had forgotten his passport. Not wanting to mess with the paper work, he hid in the toilet and was completely freaked out trying to avoid detection by the custom agents. He ended up getting away with it — amazing enough — but it was fun to relive that story.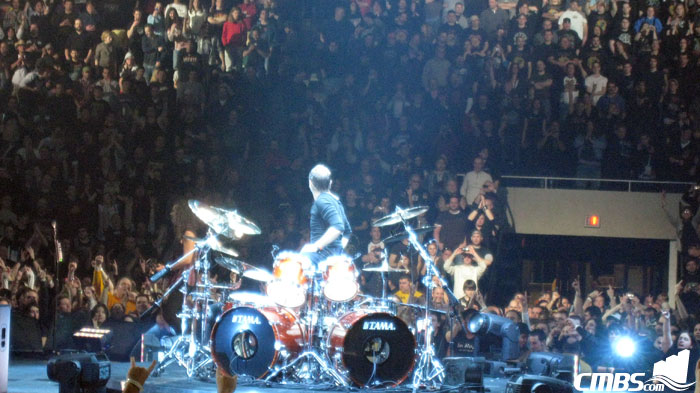 Lars, on top of the world. His night is just beginning.
Had a good talk with the bass player, Robert Trujillo, and his wife. They went out on my boat with their baby a few months back, so we were reliving that and talking about the Bay area.
Hung with Lars until the end. From a peak of maybe 100 people at 2 a.m., there were about 15 die-hards left around 4 a.m. when the bar officially closed. The rest of the band had left but Lars was not quite done yet — he has a bit of a reputation as a night owl — so they agreed to let us stay. It was me, Lars, Steve, the guys from the warm up band, the Sword, and about 5 other random folks. We sat around a table drinking wine and shooting the shit until we finally stumbled out around 5:30 a.m.
Next day
I went back to the Hotel Gansevoort, packed, got 45 minutes of sleep from 6 to 6:45, got in a car for JFK at 7, and caught the 9 o'clock American Flight back to San Francisco.
Thank God I got a business class upgrade 'cause I slept from wheels up to wheels down. I got home in time to join my family at a Super Bowl party that was being thrown by, of all people, Skylar Ulrich — Lars' ex wife and mother of two of his kids. They threw a great party with about 10 couples and lots of kids. After an awesome game, I finally got to sleep. Exhausted.
So, maybe I do have a slight man crush. Better get back to work this week or people will start talking. I will check in next week from the MBA CREF Conference in San Diego.
I shot this Master of Puppets video. Rock!
— — —
Jim Flaherty is CEO of CMBS.com and the creator of the Backshop loan origination system. He is a trained credit professional with experience installing enterprise underwriting systems for commercial real estate lenders, rating agencies and investors.
https://www.cmbs.com/wp-content/uploads/2019/03/cmbslogo030619.png
0
0
jimflaherty
https://www.cmbs.com/wp-content/uploads/2019/03/cmbslogo030619.png
jimflaherty
2009-02-04 21:52:04
2020-09-16 21:54:01
Rocking with Metallica part 2: That is Mr. Penny Lane to you sir