I spent the day Fishing and Crabbing off of the Marin coast in the "High Tide" -– my 28 foot long, twin engine MasterCraft X-80 that can usually be found pulling us around on a wakeboard. Not today: We took up the carpets, loaded my 4th and 2nd grade kids, and got my buddy who actually knows how to fish to be our guide.
We started the day by dropping a crab pot in 150 feet of water about 7 miles off Bolinas. The trap was loaded with an old fish head and, after the drop, we hit the Man Over Board button on the GPS to mark our spot and then headed in toward the coast.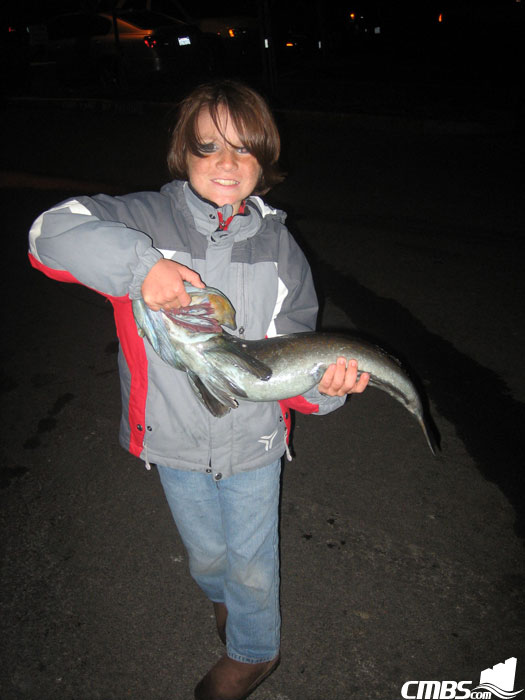 Andy with his monster from the deep.
We went to a spot called Double Point about half way between Bolinas and Point Reyes and got the poles ready. We were fishing for rock fish with sardine bait. Basically, you put a heavy weight on the line and bounce the weight off of the rocky shore below trying to get a fish to hit.
The closer you are to the rocks, the better, so there is a fair amount of positioning the boat. Needless to say, we crushed it!
My son Andy got the first hit and it turned out to be the best fish of the day — a 27-inch Blue Lingcod. The fish was ugly with big teeth and a gnarly looking face with spikes coming out of it, but lingcod are prized for eating. We went on to get six more fish including a Cabezon and a few Red Rock Fish.
We headed back out to the crab pot to see if we caught any Dungeness Crabs. After pulling up of the crab pot, we were pleased to see a bunch of keepers. We ended up with eight to keep and threw back five or so for being too small.
We powered back enough fish and crab to feed us and my buddy and his family for at least three meals (plus my dogs loved the skin and scraps). Awesome!
It was a big difference for me and the kids fishing in the ocean as we usually only fish for Trout in the Sierra lakes (Lake Kirkwood is our favorite) where a 12 inch fish is the norm.
To pull up a "creature from the deep" that feeds the entire family for a few days was awesome. Plus, to transform the boat from a Wakeboarding machine to fishing platform adds a new way to use the boat, which is always a goal.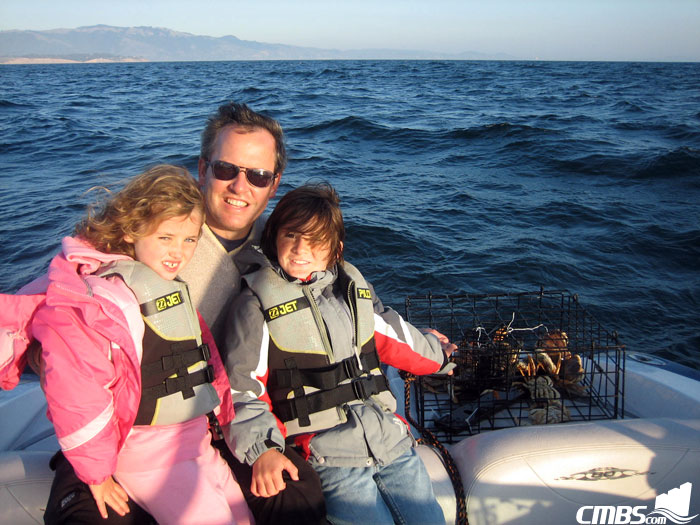 Me and the kids: There's no better way to get crab.
— — —
Jim Flaherty is CEO of CMBS.com and the creator of the Backshop loan origination system. He is a trained credit professional with experience installing enterprise underwriting systems for commercial real estate lenders, rating agencies and investors.
https://www.cmbs.com/wp-content/uploads/2019/03/cmbslogo030619.png
0
0
jimflaherty
https://www.cmbs.com/wp-content/uploads/2019/03/cmbslogo030619.png
jimflaherty
2008-11-23 00:27:50
2020-09-17 00:29:25
The Not So Deadliest Catch