The CMSA conference in Washington, DC just ended and the transparency issue was one of (if not the) dominant issues of the conference. Many attendees — as well as the guest speakers that included a senator, two congressmen, the head of the FDIC and a treasury spokesman — stressed transparency as critical to market recovery and the intent of the reform legislation.
Over 1,000 people showed up, and the parties were actually pretty good. Although we all missed South Beach, it was fun to be in DC on the one year anniversary of the inauguration and on the day that Teddy Kennedy's seat went red.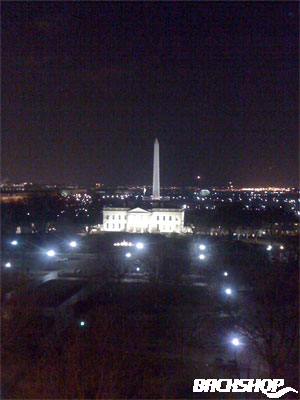 The White House
IRP Committee
The day started with the IRP Committee meeting, where we learned about a new structure the CMSA put in place to facilitate the process of determining policy.
The idea is to create a series of forums that will give voices to the interests of the different types of CMSA members (Investors, Servicers, Portfolio Lenders, Multifamily/GSE). The CMSA stated that recommendations from the forums would influence CMSA policy.
So, if we could get a forum to conclude the IRP should change to XML, the committee could finally move ahead on the conversion. I gave the audience an update on the MISMO standards, and how they were improved from the original proposal, and then we headed off to the Investor and Servicer Forums.
Investor and Servicer Forums
The debate regarding rent roll disclosure really started in the Investor Forum and was brought to a head in the Servicers Forum.
A CMBS trader from a large money manager and I both asked about disclosing rent rolls as an essential element to our disclosure levels as an asset class. We both pointed out that without disclosing full rent rolls, CMBS was not a transparent asset class and would, therefore, suffer in the eyes of investors. The response from the panel was mostly dismissive.
But: The panel had to address the question twice, not all panel participants were 100% negative and I was not the only one asking.
Agenda
There was enough coverage on this issue and enough recognition by the CMSA that this issue needs to be addressed that transparency is at least on the agenda for consideration again.
Now, let's see if the forums work as intended and if we can get positive movement out of the CMSA.
— — —
Jim Flaherty is CEO of CMBS.com and the creator of the Backshop loan origination system. He is a trained credit professional with experience installing enterprise underwriting systems for commercial real estate lenders, rating agencies and investors.
https://www.cmbs.com/wp-content/uploads/2019/03/cmbslogo030619.png
0
0
jimflaherty
https://www.cmbs.com/wp-content/uploads/2019/03/cmbslogo030619.png
jimflaherty
2010-01-21 20:22:56
2020-09-16 20:23:45
Transparency: On the agenda