I'm in London this week for the annual European conference of the Commercial Mortgage Securitization Association (CMSA).
The media have been focused on the presidential race, but, when it looked like Obama was going to win, and we left home in Notting Hill to go join "the masses," we found the streets mostly empty. Granted it was already 2 a.m. Wednesday morning local time, but I thought we might see more activity.
We headed over to the U.S. embassy in Mayfair because we heard there was a party there. When we got there, it looked "too" official with everyone dressed up and fairly conservative. So we headed to Piccadilly Circus / Leicester Square where the rowdy people were hanging out (it is comparable to Times Square in New York).
Here's where we found the party.
We went to a bar called Yates that was hosting an all-night election party. We paid the cover, and when we went inside, there were two definite groups in the bar. In the front were about McCain supporters. From the middle to the back of the bar, there were probably 500 people pulling for Obama.
We set up shop in the middle of Obama territory and waited for Pennsylvania and Ohio to come in. I got a call from my wife who was at an election party in San Francisco when they called Ohio. In London, they had not made the call yet so I announced it in the bar. People were skeptical but then as if on cue, the broke the news that Obama was going to carry Ohio and Pennsylvania.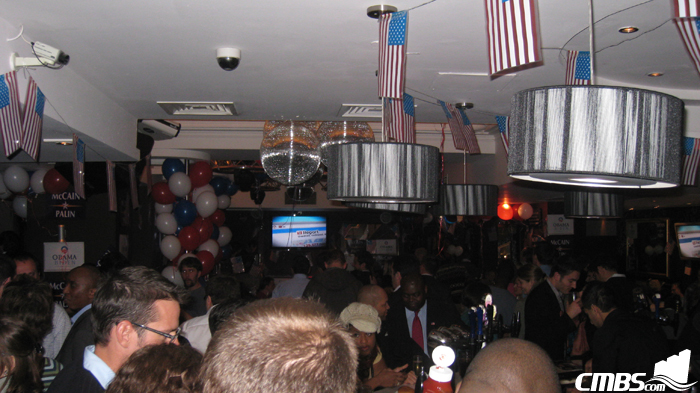 McCain supporters in front, Obama supporters in back …
Case closed: Obama won.
The place erupted — shots, champagne, hugs, tears — the whole thing. Brits were congratulating Americans for our ability to reinvent ourselves. If felt cool to be an American again in Europe. The U.S. backpackers might not have to pretend to be from Canada anymore!
After it was clear Obama won, I limped back to my hotel and watched the acceptance speech from my room (about 5 a.m. now). Inspiring, emotional, historic. When I finally passed out, I was drained but happy.
— — —
Jim Flaherty is CEO of CMBS.com and the creator of the Backshop loan origination system. He is a trained credit professional with experience installing enterprise underwriting systems for commercial real estate lenders, rating agencies and investors.
https://www.cmbs.com/wp-content/uploads/2019/03/cmbslogo030619.png
0
0
jimflaherty
https://www.cmbs.com/wp-content/uploads/2019/03/cmbslogo030619.png
jimflaherty
2008-11-06 00:31:56
2020-09-17 00:32:59
Watching the U.S. election in London