The annual CREFC conference was last week in Miami and, while attendance was slightly up, the mood was way worse than last year. 2011 started great (with momentum from a strong second half of 2010), but the summer spread widening caused losses and basically shut down the second half of 2011.
Going into 2012, there is very little momentum. Originations are starting at a standstill as opposed to a running start. However, it was still a fun few days, and the return to Miami Beach from Washington, DC was a welcomed change.
Let's take a moment to appreciate this view — and the weather. This year's sun was way better than last year's snow.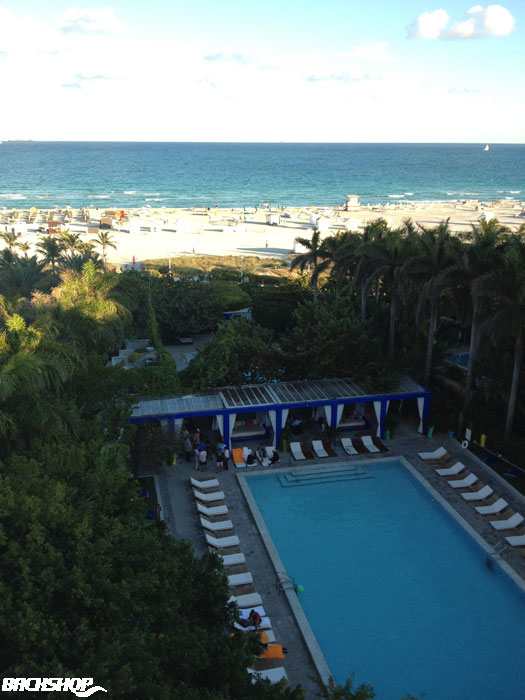 Headwinds
More than one panel talked about the headwinds facing the industry in 2012. In addition to things we cannot control (like the world markets and interest rates), one of the most interesting headwinds our industry is facing is a wave of loan maturities from 2007.
Without a doubt, 2007 was the peak of the market with lax underwriting and excessive leverage. There are about $20 billion worth of loans originated in 2007 that mature in 2012 and the losses on these loans might reach 50 percent. The headlines that these defaults make will not help investor sentiment.
No one at the conference thought the underlying economy will grow much in 2012, nor did they believe that the jobs picture will improve much. This will lead stable (or only slightly improved) fundamentals that will be insufficient to generate much positive momentum.
Recovery Year
While the market is greatly improved from 2008 and 2009, and lenders are willing to lend for the right deals, most people believe 2012 will be a lot like 2011 in terms of volume (about $32 billion) and mark — by historical levels another modest origination year.
Some folks were predicting volumes could reach $50 billion while others thought we could end up as low as $20 billion. Personally, I think we will end 2012 with $35 billion of U.S. CMBS originations.
Regulatory Update
There were no big updates on the regulatory front.
The CREFC folks said to expect a resolution on risk retention in the first quarter of 2012 and a resolution on Reg AB changes by the end of the second quarter.
But those dates could easily change — and I'll believe it when I see it.
I'm attending the MBA CREF conference in Atlanta in early February. I'll check in then with a MISMO / MBA update.

Check out my report on the 2011 CREFC conference: Upbeat mood at CREFC conference
— — —
Jim Flaherty is CEO of CMBS.com and the creator of the Backshop loan origination system. He is a trained credit professional with experience installing enterprise underwriting systems for commercial real estate lenders, rating agencies and investors.
https://www.cmbs.com/wp-content/uploads/2019/03/cmbslogo030619.png
0
0
jimflaherty
https://www.cmbs.com/wp-content/uploads/2019/03/cmbslogo030619.png
jimflaherty
2012-01-17 23:11:32
2017-06-27 20:07:43
Bad mood at 2012 CREFC conference