The release of our Marketplace is a huge step in completing our vision to bring commercial real estate online. Model and market your deals using the same data backbone the big enterprises use — with the convenience of the Web and the confidence of standardized data.
For sale properties
Our first public for sale listing is a $4.2 million retail property near Boston. This property is owned by my family (I'm not just the president of CMBS.com, I'm also a member). Check out the property and make an offer here.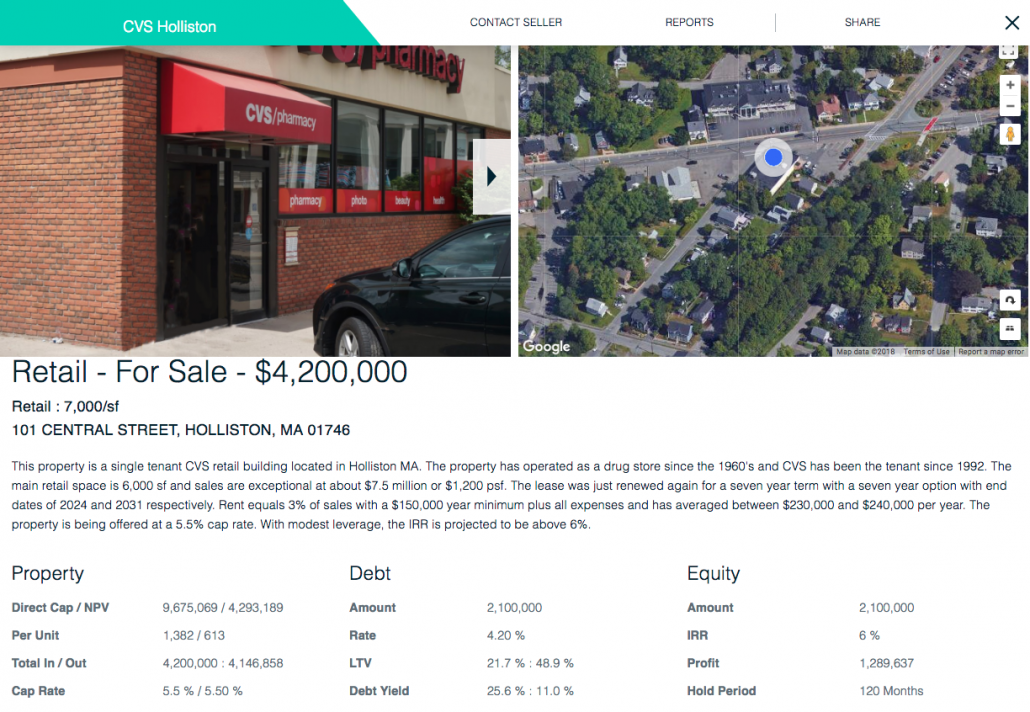 More properties will be listed as we build up our user base and develop strategic partnerships.
CMBS properties
In addition to for-sale listings, the marketplace also contains information on more than 100,000 properties that either have or had CMBS debt on them. If you are a property owner with CMBS debt, find your property in our database and add it to your CMBS.com account. Once the property is in your account you can easily monitor what your servicer is reporting as well as manage your financial reporting responsibilities. You can also browse the CMBS marketplace for market information and deal leads.
Also worth checking out:
Help videos
We make getting started on CMBS.com easy with instructional videos.
Standardized data
MISMO's rent roll standards bring consistency, efficiency and accuracy to exchange of key property data. Easily export your rent rolls in MISMO format.
Free accounts
CMBS.com accounts are free in 2018. Learn more and sign up at www.cmbs.com.
Look out for another round of new goodies before summer is over. If you have any feedback, please send it to me at jim@cmbs.com.
– – –
Jim Flaherty is CEO of CMBS.com and the creator of the Backshop loan origination system. He is a trained credit professional with experience installing enterprise underwriting systems for commercial real estate lenders, rating agencies and investors.
https://www.cmbs.com/wp-content/uploads/2019/03/cmbslogo030619.png
0
0
jimflaherty
https://www.cmbs.com/wp-content/uploads/2019/03/cmbslogo030619.png
jimflaherty
2018-07-01 22:02:23
2018-07-01 22:15:05
Announcing our Property Markeplace