I celebrated my 42nd birthday with my family over the long weekend by renting a house in Discovery Bay, a community located on the Sacramento River Delta 70 miles from San Francisco. While the girls drove, my son and I went up by boat.
---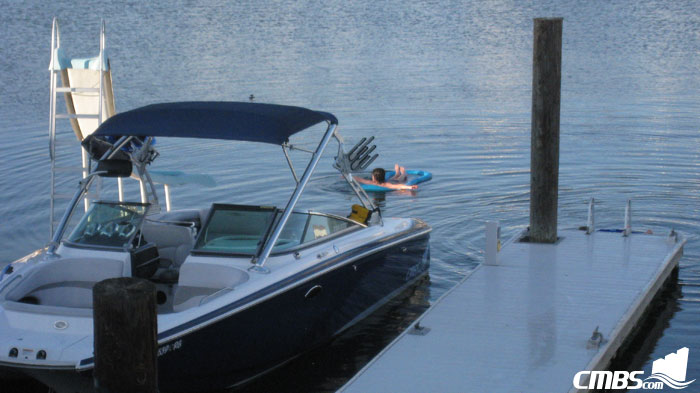 Easy Livin'
It only took us three hours (and 60 gallons of fuel) to run our boat from Sausalito to "Disco Bay," but it felt like we landed in the Midwest. The boating is in freshwater rivers, there are farms everywhere, the people are a lot friendlier, it's hot, it's cheaper and water sports rule.
Since I got my boat, a 28-foot Mastercraft X-80, I have been trying to get good at wakeboarding. I grew up in Michigan and water skied almost every day in the Detroit River, but the "kids" are wakeboarding, so I figured I'd try it.
Getting up is not too hard. Crossing the wake is not too hard. Jumping the wake, on the other hand, is very tricky. It has taken me a while and lots of brutal falls to be able to clear the wake. I have a long way to go but here is my check in …
To make me feel even older, I am heading to Boston this weekend to go to my 20th college reunion. I am a Boston College Eagle, Class of 1989. The email chain between all the old crew has been lit up, and lots of people are going — so it should be a great time. But 20 years? Really?
— — —
Jim Flaherty is CEO of CMBS.com and the creator of the Backshop loan origination system. He is a trained credit professional with experience installing enterprise underwriting systems for commercial real estate lenders, rating agencies and investors.
https://www.cmbs.com/wp-content/uploads/2019/03/cmbslogo030619.png
0
0
jimflaherty
https://www.cmbs.com/wp-content/uploads/2019/03/cmbslogo030619.png
jimflaherty
2009-05-26 21:06:02
2020-09-16 21:07:43
San Francisco to the Midwest by Boat